Edit location details
Last updated
Role required: Organization administrator
ResMed Resupply gives you the ability to organize and customize your patient population by location or branch.
To view or edit a location's details:
From the Administration menu, select Locations.
Click the location name in the Name column.
At the bottom of the page, click Edit.
From this page, you can edit the following fields:
Location details
Status: Set the status to active or inactive.
NPI: Your location's national provider identifier.
Notifications from this location: Enable or disable outreach for all patients assigned to a location.
Time zone: Set the time zone for your location.
Supply request options
Visible company name: Customize outreach by using the location's name in emails and other outreach notifications.
Number of allowed for shipping: The approximate number of days for the delivery of patient supplies.
Location fulfillment partner: Set your location's fulfillment partner.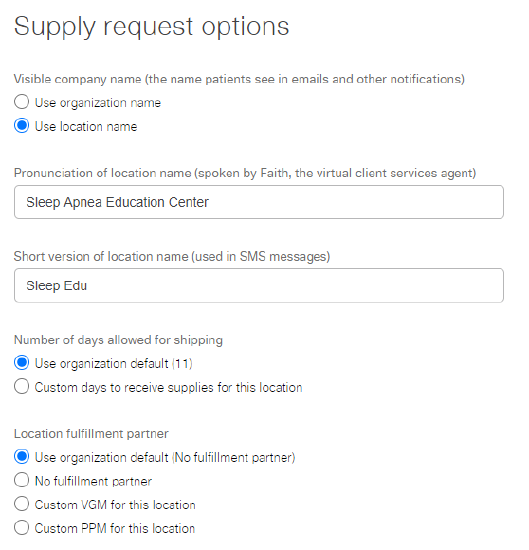 Contact details
Address: Enter your location's physical address and contact information.
Alternative names
Add an alternative name: Allows you to assign patients to a location through the Patient and order import tool.