Understanding SMS Notifications
Last updated
Details what SMS notifications are and how they work.
Document ID 2890
​With ResMed ReSupply, patients can opt-in to receive SMS (text message) notifications to indicate when they may be eligible for CPAP supplies. SMS/text messaging notifications must be enabled in your organization details before making changes.
If you have any questions, don't hesitate to contact your Solutions Operations Specialist.
How do SMS notifications work?
Before patients can receive SMS notifications, they must agree to ResMed's ReSupply terms and conditions for SMS messaging.
Patients can agree to the terms and conditions through the patient portal. Alternatively, a ResMed ReSupply user from your organization can provide consent on the patient's behalf.
Patient Consent to Terms and Conditions
For a patient to consent, they must complete the following:
Visit ResMed ReSupply online

Enter their Email Address on the ResMed ReSupply Login page and click Continue

Enter their Password and click Continue

Click their Name in the top right corner and select My profile

Click Edit under the My notifications section

Select Text message (SMS) in the Contact method

Click OK to accept the Text Message (SMS) terms and conditions

Click Save to complete the consent process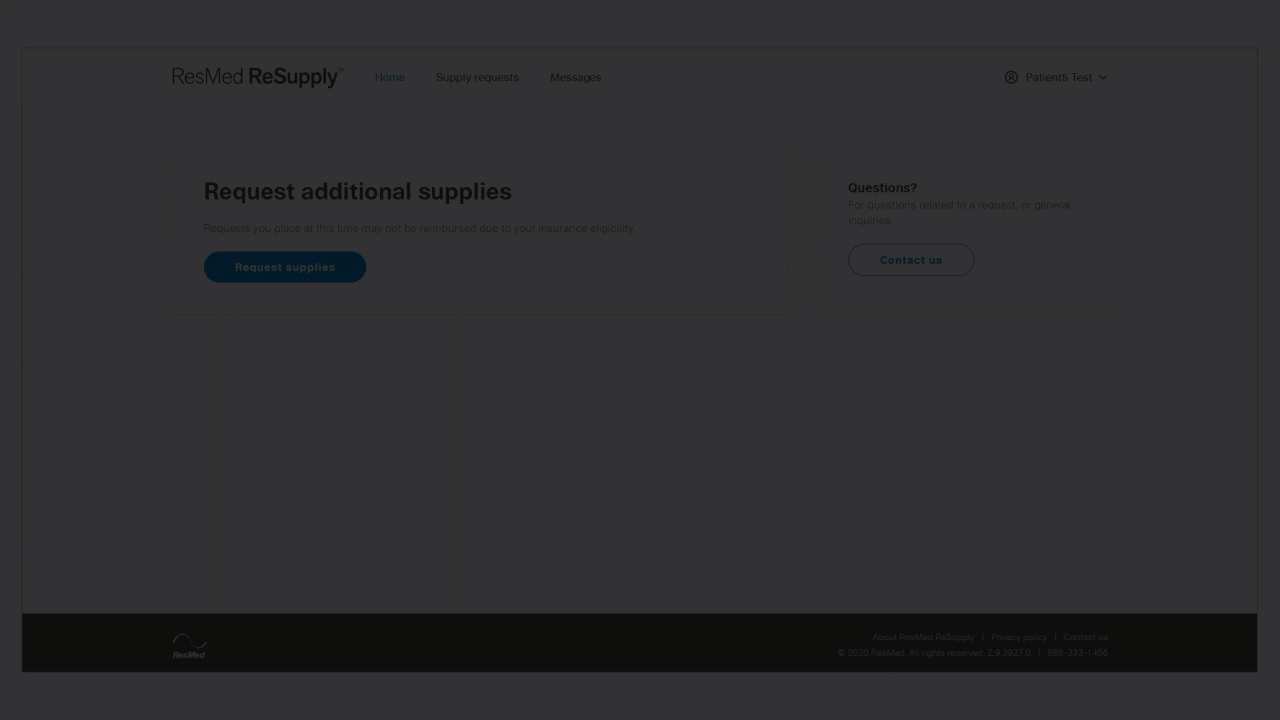 Resupply User Consent to Terms and Conditions
If a patient cannot access the patient portal for SMS notifications, you or a team member can opt-in on their behalf.
To opt in on behalf of the patient:

In the Patients menu, select All patients

From the list, select your preferred search criteria

In the Name column, click the patient's name

Select Patient details

In the Contact information section, click Edit

In the Contact method section, select Text message (SMS)

To accept the terms and conditions on behalf of the patient, click OK

Click Save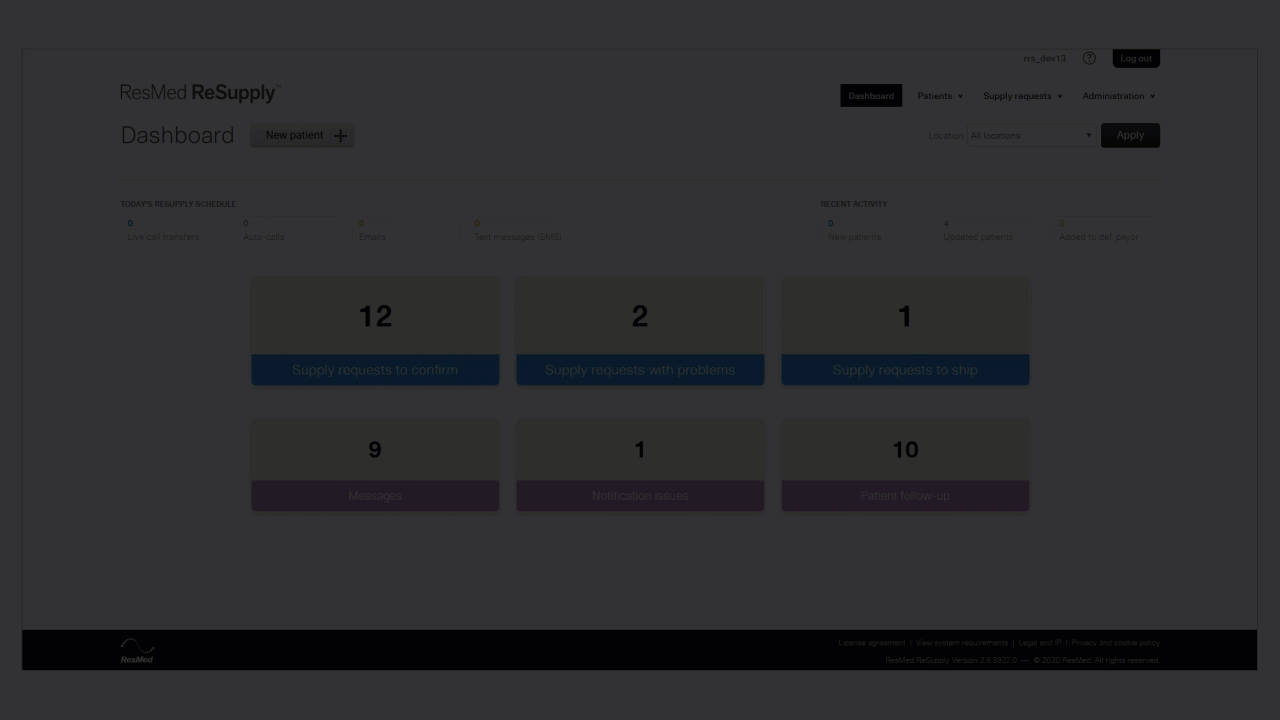 NOTE: A patient cannot receive SMS notifications without a valid mobile phone number on file.
Patient opt-in
Once a patient's notification preferences have been changed, they will receive a text message notifying them of potential data rate charges, and they will be asked if they would like to opt-in. Once confirmed, they will be told how frequently the texts will occur and how to opt-out. They will receive a notification when they are eligible to receive supplies.
| | |
| --- | --- |
| | |
How often does the system contact a patient with SMS notifications?
Normally, patients who opt-in for SMS notifications will receive a text message once a week for up to five weeks (unless the patient responds and completes the questionnaire).
SMS notifications are sent from +1 (855) 242-1780, alerting the patient to request supplies from the patient portal.
NOTE: If a patient has SMS/text messaging and Interactive Voice Response (IVR) or live call transfer as their preferred contact method, the text message notification is sent 48 hours before the system makes the call.
Home Medical Equipment providers can opt to trigger notifications based on a specific period instead of only when a patient is eligible for a mask. The HME can select any number of days, from 30 to 365, for the outreach frequency. The first outreach is based on the latest supplied date and the selected outreach frequency.
Article Metadata

The following table provides management and control details about the current published version of this article.


| | |
| --- | --- |
| Prepared By | Christopher Swindells |
| Reviewed By | Nader Omar, Megan Cooper, JoAnne Conran |
| Process Owner | TJ Sands |
| Subject Matter Expert | Megan Cooper |
| Visibility | Internal - ACE |
| Audience | ResMed ReSupply |
| Revision Workflow | Standard |
| Archive Date | |
| DAC | DAC1 |

Revision History

The following table summarizes changes for each published version of this article.


| Date | Changes |
| --- | --- |
| 30 August 2023 | Updated article title. Edited login instructions for SMS notifications. Reformatted article to conform to current standards. Addition of style and summary control and metadata and revision history templates. Minor revisions for clarity. |
| 21 September 2020 | Initial publication. All new content. |